Petpack's Role in Elevating PHIS' Digital Presence: A Testimonial from Clinton Kay 2023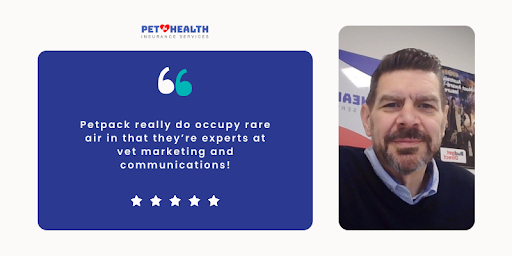 In the fast-paced world of veterinary services, having a team by your side that knows both digital marketing and the ins and outs of the veterinary profession isn't just a bonus; it's essential. That's where we at Petpack come in, serving as your go-to partner in the industry.
Not long ago, Clinton, the general manager of Pet Health Insurance Services, highlighted the unique benefits of teaming up with Petpack, sharing:
"Petpack really do occupy rare air in that they're experts at vet marketing and communications, I would say you wouldn't want to use anyone else… They are fantastic to work with, collaborative and receptive and produce quality work that is both entertaining and engagingly formatted while also being informative and educational."
This testimonial underscores our commitment to delivering not only expertly crafted marketing solutions but also content that is engaging and educational, tailored to the unique needs of the veterinary sector.
He further highlighted the fruitful collaboration, sharing:
"Petpack adds value to and forms an important part of our communications engagement model… We are working together to improve pet health and wellbeing and support veterinary professionals to combat passion fatigue by increasing pet insurance take up."
This partnership is more than business; it is a shared vision to enhance the wellbeing of pets and support veterinary professionals through informed and engaging marketing strategies.
At Petpack, we are thrilled to be acknowledged for our unique approach and expertise. As we forge ahead with industry leaders like PHIS, we remain steadfast in our mission to improve animal care through effective veterinary communications.
Join us as we continue to shape a brighter future for the pet community through innovative marketing strategies, one step at a time. If you want to learn more about us and our marketing services, don't hesitate to send us an email to michael@petpack.com.au or call us at (03) 9690 6253.