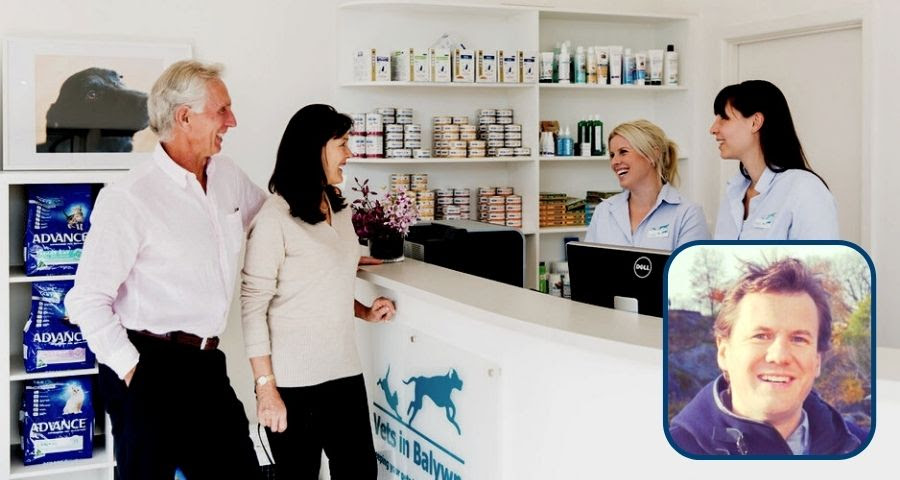 Photo: Clients at Vets on Balwyn. Inset: Peter Gaunt.
During 2020 veterinarians in Victoria have contended with extended periods of lockdown, and Peter Gaunt, Director of the Vets in Melbourne group of practices has shared his perspective about the important issues to be aware of as we move towards the new year.
 
Led by veterinarian Dr Kevin Foster, Vets in Melbourne is a family of four veterinary clinics in Templestowe, Balwyn, Endeavour Hills, Cranbourne. Mr Gaunt said the lockdowns had highlighted the important role pets play as our companions.
 
"Not only do more households have pets, but pet parents are taking better care of their existing furry family members.  Spending on animal care is up 23% in Australia. My prediction is that vets will remain very busy throughout 2021, as the trend towards focusing on home, family and pets continues.  My hope is that leaders proactively manage 'burnout' and their team's mental health.  Coronavirus, busy days, contact-free appointments, and infection control protocols are all taking their toll on vets and nurses.  We all need a holiday, and leaders need to look after their teams now more than ever", said Mr Gaunt.
 
Veterinary recruitment will remain a challenge into 2021, and practices will need to embrace the technological adaptions that have been implemented during the pandemic predicts Mr Gaunt. 
 
"The huge increase in demand for veterinary services means recruitment will remain a challenge for many clinics. New graduates rightly look for work-life balance, a positive team culture, and mentoring and support for their professional development.  Managing increasing patient numbers, client expectations and providing work-life balance for teams will be a big focus in 2021″.
 
"Everyone is more comfortable doing things remotely and vets need to adapt accordingly.  Staff meetings and training can easily be done via Zoom.  Vets in Melbourne's regular team seminars have moved online – and we now provide Uber Eats vouchers so our vets can enjoy dinner at home whilst participating in case discussions with experts.  Similarly, clients are increasingly comfortable with telehealth and many expect food and medication to be delivered, an initiative we have just implemented", said Mr Gaunt.