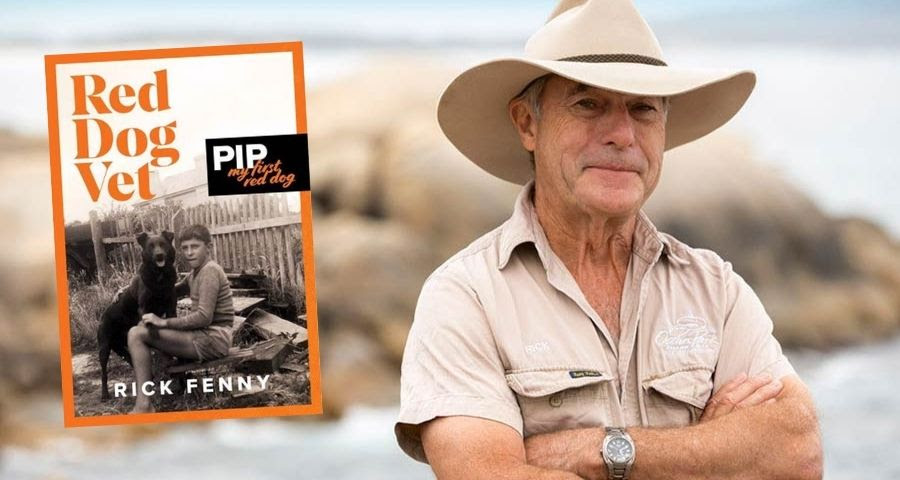 Photo: Dr Rick Fenny. Inset: Front cover of Red Dog Vet: Pip – My First Red Dog.
Western Australian veterinarian Dr Rick Fenny has released the first of four books about the red dogs that punctuated four eras of his life. For many years Dr Fenny worked in the Kimberley and Pilbara regions of Western Australia's north, and during that time he became the unofficial vet to the inimitable Red Dog, a kelpie-cattle dog that roamed the area making friends at every turn but never settling down. The story of Red Dog was made into a feature film in 2011.
In this book, Red Dog Vet: Pip – My First Red Dog, Dr Fenny details the early years of his own life growing up in the post-war years initially on the rural outskirts of Perth and later in the south coastal town of Albany. It is in Albany that, as a ten-year-old, Pip entered Dr Fenny's life.
"Pip and I were closely bonded and did everything together. He set me on my pathway, inevitably to become a vet, teaching me about animal and human behaviour, love loss, responsibility, caring and practical lessons in pet ownership", said Dr Fenny.
The impetus for this book came after the death of the Pilbara Red Dog, as Dr Fenny explained, "I was his vet for much of his life and was tasked with putting him down. Laying the last shovelful of dirt on his grave was a poignant moment in my own life".
Needing time to reflect on what had happened, led Dr Fenny to be sitting alone on a rock mourning the death of a special dog. He knew he had to write his story about Red Dog and the special bond they had shared. The more Dr Fenny thought about where to start, it became clear that he needed to go back to where it all began, reflecting on where he came from.
Dr Fenny's new book Red Dog Vet: Pip – My First Red Dog is available to purchase here.