What makes a great veterinary clinic website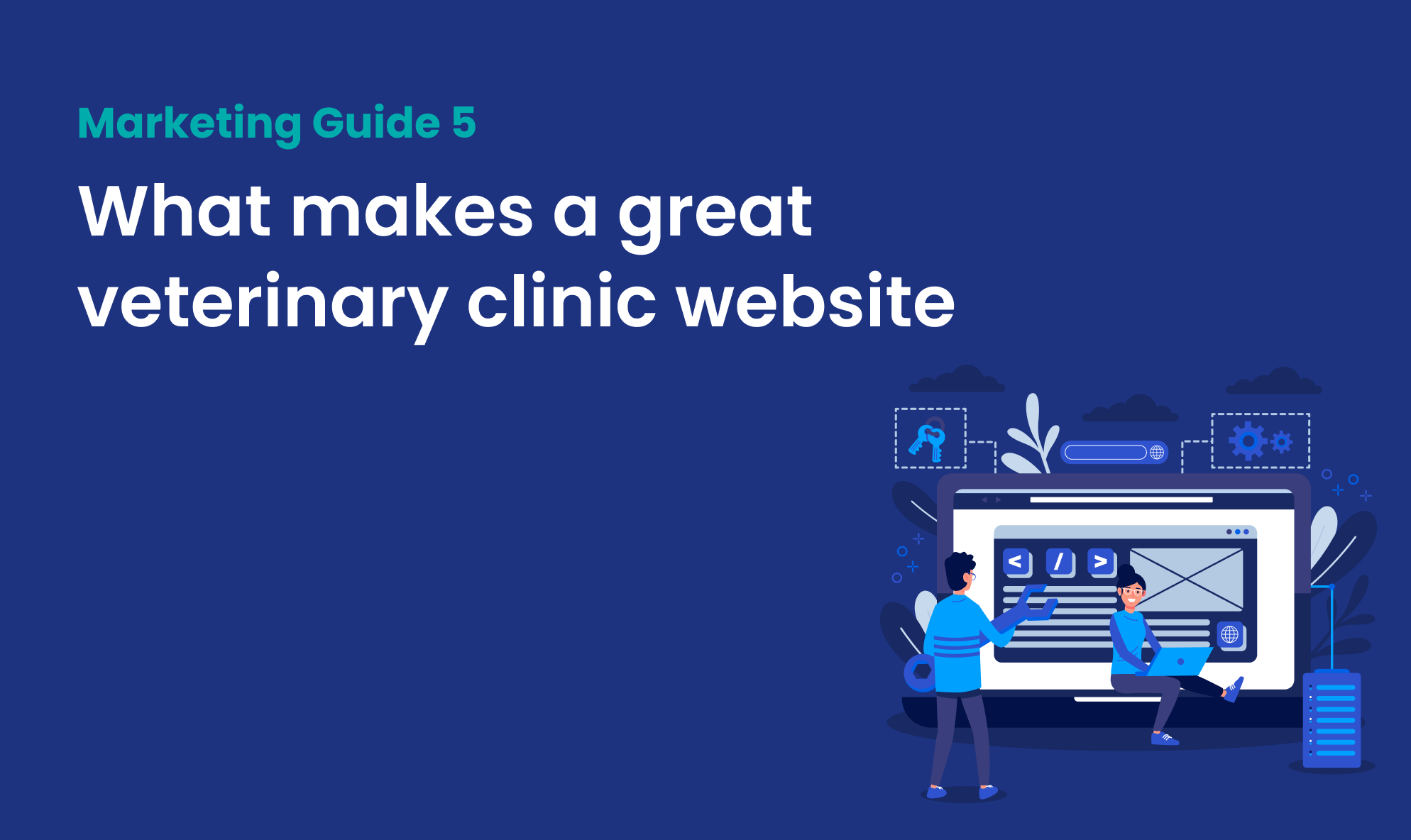 In the digital age, especially after COVID-19, where the world has increasingly shifted online, a robust online presence is crucial for your veterinary practice. A well-designed website not only serves as a powerful marketing tool to attract new clients, but it also acts as a hub for sharing valuable content and connecting with your pet owner community. Are you wondering what a successful website of a leading veterinary clinic looks like? Here are the key elements that contribute to an impressive website.
User-Friendly Design
The cornerstone of a great website is its user-friendly design. The layout should be logical and easy to navigate, making information retrieval a breeze. Clear calls to action (CTAs), such as booking an appointment or subscribing to a newsletter, should be strategically placed to guide visitors towards the desired actions.
Case study: The Eastside Veterinary Clinic website was designed and developed by Petpack to be easily navigable and user-friendly. All the service and page listings are neatly displayed on the navigation bar, making it simple for users to find what they need. We chose a call-to-action button colour with high contrast to the background to draw the eye. Essential information such as contact details and address sits right beneath the header banner, ensuring immediate visibility. With a fully optimised design, this website drives a significant amount of traffic and weekly bookings for the clinic.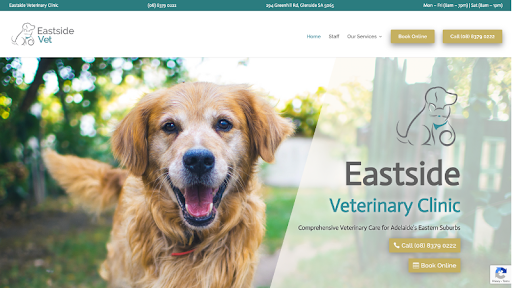 Visual Appeal
High-quality photos and videos are essential for making a strong first impression. The consistency in colours, fonts, and imagery across your website not only reinforces your brand identity but also fosters trust among visitors. It's vital to choose images that truly embody your brand's tone. There are many ways to enhance the visual appeal of your website. For instance, if your clinic is a large hospital, consider using high-quality photos of your clinic's striking facade or advanced equipment. These images are impactful and can help convey professionalism. Alternatively, if you run a family-owned clinic, incorporating photos of your team, clients, and their pets can effectively showcase the warm and caring personality of your practice. Just remember to always select images that truly resonate with your brand's ethos.
Case study: We aimed to create a visually appealing design when updating Beach and Bay Vet's website. The outcome? A website that catches the viewer's eye immediately, with a playful banner image of a dog on the bay that captures the brand's tone perfectly. Scrolling down, the clean design conveys messages directly, with visual elements perfectly aligned. The updated design also makes it easier for clients to take action.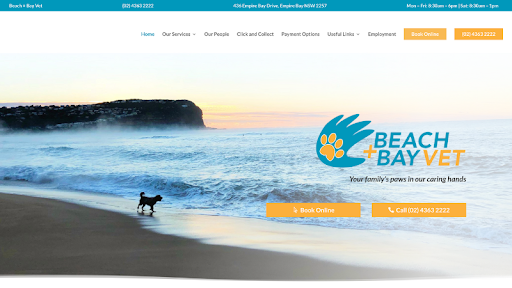 Engaging Content
The content showcased on a veterinary clinic's website should differ from that on other kinds of websites, such as an e-commerce platform. Given the vet's reputation as a respected expert in the eyes of pet owners, it's paramount for your website to reflect your expertise. Regularly updating your site with blog posts, articles, and other relevant content can attract new visitors and keep existing clients engaged. Employing a content mix of evergreen topics and trending subjects can enhance the appeal and relevancy of your content. By providing valuable and engaging information, your clinic can establish itself as a trusted resource for pet owners. Additionally, covering a broad range of topics and answering queries that pet owners are likely to search on Google can improve your site's organic traffic.
Case study: Terrey Hills Animal Hospital's website includes a blog section filled with pet care guides and useful information for pet owners. These resources effectively enhance the clinic's credibility. To maintain a regular schedule of high-quality content without interfering with the operation of the clinic, Terrey Hills partnered with Petpack for professional blog creation services.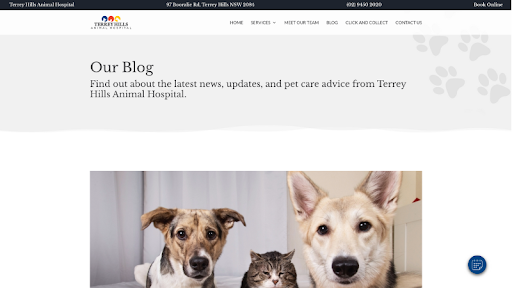 Showcasing Your Team and Culture
Including a dedicated page for staff bios and photos can provide visitors with valuable insights into your team's personality and the clinic's culture. By offering a more personal perspective of who you are and what your team stands for, it serves to humanise your practice and fosters a stronger connection with potential and existing clients. This strategy can be especially powerful as it moves away from the impersonal nature of stock images and instead highlights the unique individuals who make up your team. Real-life pictures of your team at work or engaging with pets can paint an authentic picture of your clinic's atmosphere, thereby building a rapport with clients.
Case study: Enfield Vet Hospital prominently features team photos and bios on the homepage. They include bios for not only the vets but all of the team members. This approach serves to give a broader picture of their clinic's operations and history, making it more relatable to their clients. The personalised presentation of their staff fosters an atmosphere of familiarity and trust, allowing clients to feel closer to the team, even before they walk through the clinic doors.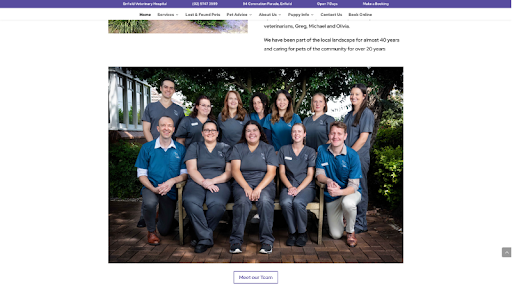 Accreditations and Social Media Integration
Displaying your clinic's accreditations and integrating social media can bolster your credibility and encourage community engagement. These elements, enhanced by your online presence, invite interactions with your clinic. At Petpack, we ensure our clients' websites are linked to their social media platforms, providing a unified digital experience. We also champion the collection and display of client testimonials, leveraging the power of digital word-of-mouth marketing for your clinic's benefit.
Case study: Epsom Road Vet displays testimonials on their homepage, providing potential clients with real-world insights into the value of their services. They also make it easy for visitors to leave reviews with a clear call-to-action button.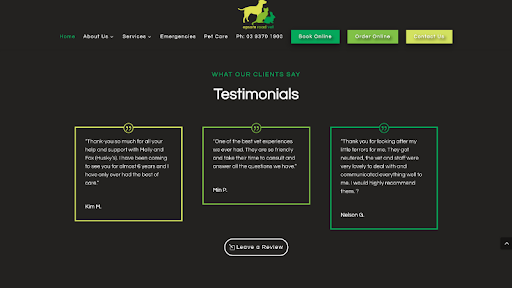 SEO for Local Visibility
Search Engine Optimisation (SEO) plays a vital role in enhancing the visibility of your website in search engine results. By implementing effective SEO strategies, your clinic can achieve a prominent online presence, appearing swiftly in search results when pet owners are seeking veterinary services in your area. The significance of both on-page and technical SEO cannot be overstated.
On-page SEO, which is quite straightforward to grasp, involves optimising the visible content on your website – the elements that you and your clients interact with. There is a host of strategies you can employ to bolster your on-page SEO. When building a new website, Petpack always helps our clients refine the hierarchy of title tags, include the right keywords, and develop compelling meta descriptions.
As for technical SEO, it primarily focuses on the backend aspects of your site. To optimise this complex yet crucial aspect, you can count on Petpack. We'll assist you in setting up your website's technical infrastructure, ensuring its structure, performance, and security are fully optimised for both search engines and users.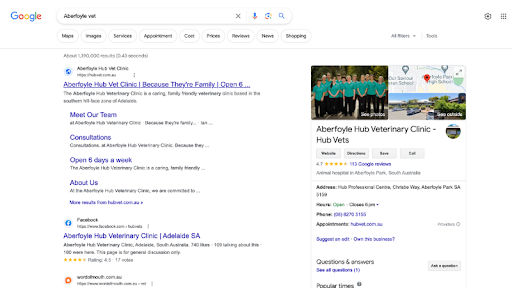 In conclusion, a great veterinary website is more than just a digital brochure. It's a dynamic platform that caters to the needs of pet owners and positions your clinic for online success. By focusing on these key elements, you can create a high-performing website that serves as a valuable asset for your practice. Yet, achieving these features and maintaining them requires expertise and time. That's where Petpack comes in. Our expertise can help build or transform your website, making it engaging and user-friendly, while boosting its visibility to drive traffic and bookings.
For more information about how we can help with your website, contact Michael Umansky michael@petpack.com.au.